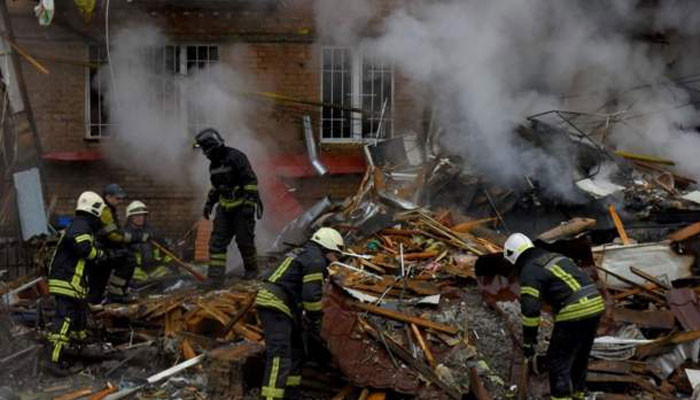 World
As a result of successive Russian missile attacks on Ukraine, 6 people were killed, the power system was destroyed
As a result of successive missile attacks by Russia on Ukraine, 6 people have been killed, while as a result of attacks on power stations, the capital Kyiv and Power supply has been suspended in most parts of the country including Odisha.
According to foreign media, in the last one week, Russian missile attacks have been targeting power stations, including important Ukrainian installations. are
On the other hand, an apartment block has been destroyed in the city of Wishard, near the Ukrainian capital, where efforts are being made to rescue the victims by firefighters and aid volunteers.
The Ukrainian National Police says that 6 people have been killed and more than 36 people have been injured as a result of the Russian attacks on different cities of Ukraine today.
According to the National Police, 16 important installations and residential buildings were severely damaged as a result of the attacks, while many areas of Ukraine were plunged into darkness.
The Ukrainian Air Force says that 50 of the 70 cruise missiles fired by Russia were destroyed.
According to foreign media, Ukraine's deputy prime minister says that as a result of the Russian attacks, more than half of the areas around Moldova have lost power, while three Ukrainian power stations have been cut off from the national electricity network.
The Ukrainian authorities say that the whole country has been attacked by Russia, the Deputy Health Minister of Ukraine says that the whole country is under attack today and we have seen attacks on the capital Kyiv and other cities before. have done
He said that the series of attacks has not stopped yet, so the damage cannot be estimated, but the situation will become clear in a few hours.
The Ukrainian Deputy Health Minister said that so far all the injured have been taken to the hospital, while special emergency teams have also been formed to ensure the transfer of the injured to other hospitals in Zaporizhzhia.
He said that as a result of Russian attacks in the country, more than 1000 medical centers have been damaged while 143 medical centers have been completely destroyed.
World Health Organization (WHO) Regional Director for Europe, Dr. Hans Kluge, has warned that Russian attacks on Ukrainian facilities could trigger a humanitarian tragedy in Ukraine.
He said that without electricity hospitals cannot continue their work, maternity units need incubators, vaccine depots need refrigerators and surgery also needs electricity.
He said that we are seeing that 50 percent of the civilian energy installations have been destroyed, now the situation in Ukraine can take a serious form after the change of climate and the decrease in temperature to minus 20 degrees.