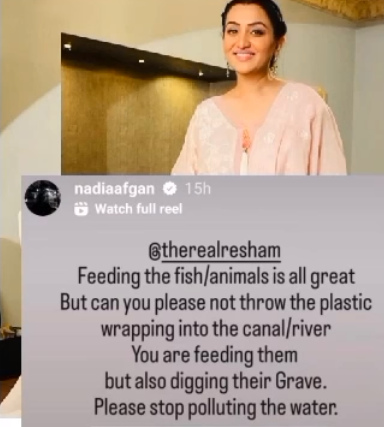 Entertainment
'Why throw 2 bags in the river, it seems like all the punishments are coming because of me'
Pakistan's senior actress Resham has given an explanation for throwing plastic bags with meat and double bread in the river for fish to eat.
A few days ago, Resham posted a video on her Facebook page in which she apparently got down from her car on a bridge, took out pieces of meat and then double bread from a plastic bag and threw them in the river for fish.
However, at the same time, when the plastic bags full of meat and double bread were empty, the actress was also seen throwing them into the river. When this video went viral on social media, consumers criticized Reshma for not being aware of the harm of environmental and water pollution. Taken by hand.
Now in a conversation with Geo Digital, Resham has explained the matter.
"I went to Char Sedah for two days, spent time with the flood-affected children and on my way back stopped to feed the fishes by the riverside," Resham said.
In a conversation with Geo, the actress said, 'We are human and mistakes happen, what's the big deal that people are criticizing so much, I don't care about anyone's criticism'.
'I am a harmless person, I did not realize that I even threw the bag'

Resham added, 'I am a harmless innocent person, I didn't realize that I even threw the bag, when I returned from four hundred years ago and saw social media, it was trending everywhere, people just don't know why. Do it, it looks like I dumped not just two bags, but the world's pollution into that river'.
In the interview, he also said, 'People are targeting me as if I don't know what sin I have committed, as if this flood and all the punishments are coming because of me.'
I've had covid twice and the effects are still on the mind: silk

Actress Resham said, 'I have been infected with Covid twice, the effects of which are still on my mind. What am I going to do and throw plastic bags in the river in the same carelessness?
It should be noted that while Resham was criticized by social media users, personalities associated with showbiz also shared posts on social media to correct him.
Actor and director Shamoon Abbasi shared the video of Resham on Instagram and wrote 'Dear Resham ji! I or anyone else cannot judge your good or bad actions, but if you participate in such actions, please refrain from using the camera and if necessary, please do it with the global environment in mind. Do it'.
"Plastic is dangerous, use trash for it," he warned in his post.
Apart from this, actress Nadia Afgan posted the story on Instagram and wrote 'It's great to feed fish and animals but you can't throw plastic in the river, you are feeding them but also digging a grave'.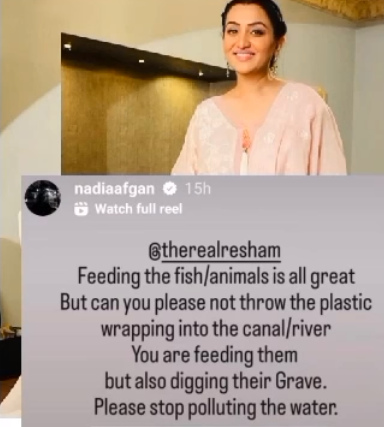 It should be noted that according to WWF, plastic pollution in the sea has become a serious threat to the survival of aquatic life and it kills millions of aquatic life every year.