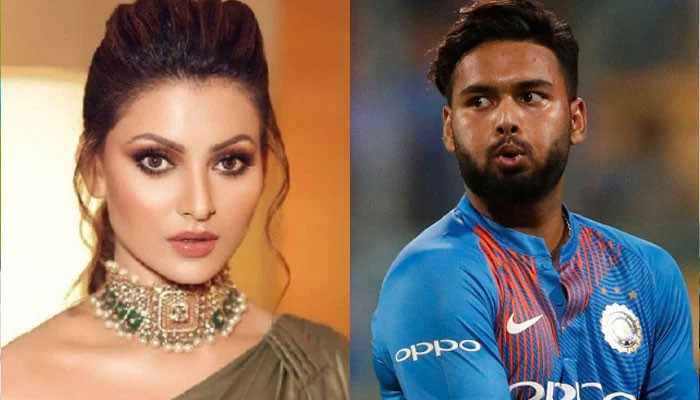 Entertainment
Urvashi apologized to Indian cricketer Rishabh Pant
There was a verbal war between Bollywood actress Urvashi Rotila and Indian cricketer Rishabh Pant on social media in the past few days, but now Urvashi has apologized to Rishabh Pant.
According to Indian media, a video of Urvashi is going viral on social media in which she is seen apologizing to Rishabh Pant amid the recent controversy.

It was seen in the video that when a reporter told Urvashi that through me you want to convey a message to Rishabh Pant, then speak, to which the Indian actress folded her hands and said that I will say 'I'm sorry'. .
What was the matter of Urvashi Rotila and Rishabh Pant?

In an interview last month, Arvashi, apparently referring to Rishabh Pant, claimed that a man named 'RP' had waited for hours at the hotel to meet me.
The actress said that once I was shooting in New Delhi, it took me time to get ready, Mr 'RP' came to meet me in the hotel lobby but after about 10 hours I went to my room and slept. Didn't pick up any phone calls, when I woke up there were 16 calls, I felt bad that someone had to wait so long to see me.
Urvashi said that then I told the person that you will meet when you come to Mumbai. But then we met in Mumbai.
After the interview went viral, the Indian cricketer posted a story on Instagram which he later removed.
Rishabh Pant apparently addressed Urvashi Rotila in his story saying 'How people lie in interviews to stay in the news and get cheap fame, leave me behind sister'.
Later, Urvashi Rotila also tweeted, apparently addressing Rishabh Pant, saying, 'Younger brother you should play cricket, I am not a Muni who will become infamous for you darling.
It should be noted that once Urvashi Rotila had claimed that she and Rishabh Pant were dating each other, but the Indian cricketer rejected the claim and blocked the actress on social media.