TOPICS COVERED IN THIS ANALYSIS OF THE EUR / USD PAIR
Investors look to US inflation

EUR/USD :

the pair is locked in a range
Investors look to US inflation
The US dollar is declininga little against the euro, penalized by the renewed appetite for risky assets while that concerns about the Omicron variant slowly begin to fade.
While the ECB maintains that the price hike will moderate without intervention on its part, a growing number of its officials have expressed concern about the possibility of more sustainable inflation, which would lead the central bank to reduce its policy measures. relaunch.
The return of inflation in the euro zone to the European Central Bank's objective, set at 2%, will be longer than expected, the vice-president of the institution Luis de Guindos said on Wednesday.
In November, consumer prices rose 4.9% year on year, a record high but most forecasters do not see them fall below 2% until the very end of 2022.
Furthermore, Investors awaiting the publication of the figures of inflation in the United States. The data monthlythes Consumer prices, which will be released on Friday, could fuel the Federal Reserve's monetary tightening debate ahead of its meeting next week.
Investors will also be attentive to meetings froms central banks next week, with the Fed, the ECB and the BoE.
EUR / USD: the pair is locked in a range
EUR / USD is trying to rebound from its market low at $ 1.1180. Graphically, the pair entered a stabilization phase inside a range between $ 1.1180 and $ 1.1370.
It is therefore difficult to anticipate the next directional movement. For that, it will be necessary to wait for the rupture of one of the two terminals. In the medium term, the dollar benefits from a tightening of the Fed's monetary policy, while the euro is penalized by the accommodating monetary policy of the ECB which rules out a rate hike in 2022.
A breach of $ 1.1370 would allow the single currency to regain some height in order to rally the 50 period moving average towards $ 1.1460. Nevertheless, the market will have to break free from the bearish slant to reverse the trend and start a bullish recovery.
On the other hand, if the EUR / USD fails again at $ 1.1370, sellers will take this opportunity to push prices back to the lower bound at $ 1.1180 (ping-pong strategy). A foray below this support level would rekindle bearish momentum to rally the $ 1.1075.
EUR / USD CHART IN DATA JOURNALSISRES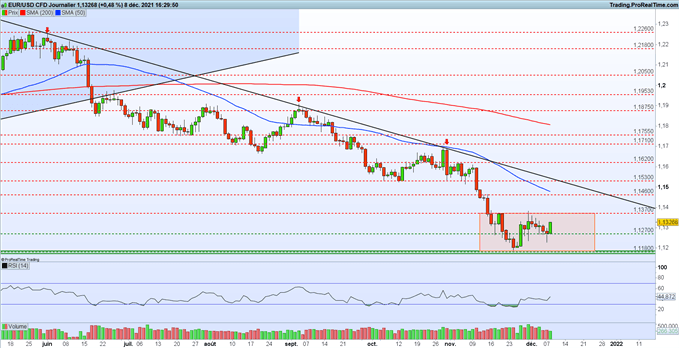 Twitter @Joris Zanna
CONTINUE YOUR READING
3 trading tips I wish I knew when I first started trading
Four very effective technical indicators that every trader should know