TOPICS COVERED IN THIS ANALYSIS OF THE EUR / USD PAIR
Markets torn between the Omicron variant and monetary policy

EUR/USD :

a consolidation triangle
Markets torn between the Omicron variant and monetary policy
The steps are disturbed by the advance of the Omicron variant in Europe and by a halt to the gigantic social reform plan of US President Joe Biden.
A few days before the end of the year holidays, several countries have put in place new restrictions in an attempt to stop the spread of the Omicron variant.
Following US Democratic Senator Joe Manchin's decision to reject Joe Biden's social and environmental reform program, Goldman Sachs has downgraded US growth forecasts for next year.
The European Central Bank has lagged far behind the Bank of England and the Fed in the tightening cycle monetary. By announcing that it would end its emergency bond purchases, but continue its other purchases and keep rates close to zero until 2023.
Projections of ECB asset purchases:
The ECB, for its part, has shown itself less determined to turn the page on its support for the economy: it has announced a reduction in its asset purchases but has promised to continue to promote the recovery in 2022.
In terms of indicators, this week, theReports on gross domestic product, consumer confidence and existing home sales will be released on Wednesday, while reports on personal income and expenditure, initial jobless claims and new home sales are due. scheduled for thursday.
EUR / USD: a consolidation triangle
Despite a bearish momentum since June 2020, the EUR / USD stabilized in December. This stabilization phase seems to be inscribed within a chartist figure: a symmetrical triangle.
Thus, breaking one of the two limits should give the tempo for the rest. A crossing of the upper limit towards $ 1.1370 would open the door to a bullish recovery to seek the slant near $ 1.1460.
On the other hand, an exit from the bottom of the triangle would lead to a continuation of the bearish momentum. The pair would return to test the support at $ 1.1180 and then if broken, the market should accelerate its decline to finish its run towards $ 1.1075.
CHART OF EUR / USD IN DAILY DATA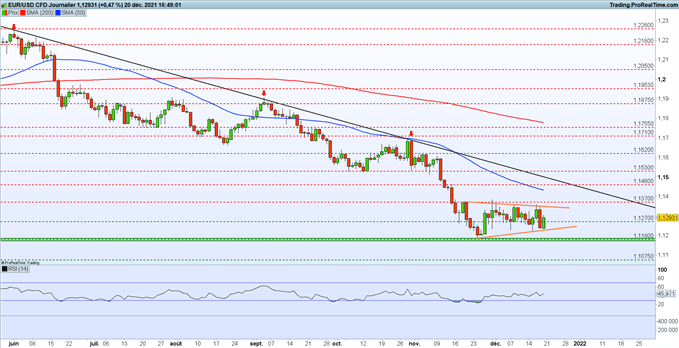 Twitter @Joris Zanna
CONTINUE YOUR READING
3 trading tips I wish I knew when I first started trading
Four very effective technical indicators that every trader should know