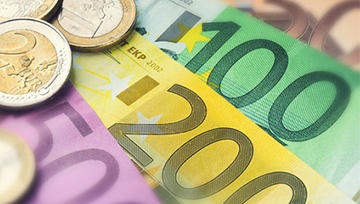 Business
Sharp rebound of the euro in the short term!
Key points from the article:
The euro at the launch of ECB comments
The euro is not out of the woods yet
The euro hit a more than three-week high against the dollar this morning as leaders of the European Central Bank argued for further aggressive monetary tightening.
The rise of the European currency is also explained by the greenback's retort against the main currencies, not far from its lowest level in two weeks, before the publication this week of inflation data in the United States, which could allows the Federal Reserve to slow the pace of its rate hikes at its September 21 meeting.
ECB policymakers have a risky crescent to raise their key rate to 2% or more to curb record inflation in the eurozone. In an interview with German radio at the weekend conference, Bundesbank President Joachim Nagel said that if the level of consumer prices does not change, "other clear measures must follow".
The dollar index, which measures currency for the ratio of the six major currencies, rose to 107.58 after recently falling from a high of 110.53 during the dollar era. It ate its lowest level since August 30.
Investors are taking profit ahead of Tuesday's U.S. CPI report, although Fed officials continued their aggressive rhetoric on Friday, the last day for such comments before a blackout period ahead of Federal Committee deliberations. open market.
The euro is not out of the woods yet
In my last analysis on the euro dollar, I had presented a return sheet based on an Elliotist count and a possible target under 0.9700. Does the rebound call this count into question?
The euro has indeed broken an important short-term resistance represented by the polarity line at 1.0096 even though the 34-period moving average. This is a positive signal that may suggest that wave 5 ended earlier than expected at 0.9864.
However, we do not yet consider confirmation that a trend reversal has resumed. This will require crossing the upper limit of the bearish channel that the euro is testing this morning at 1.0200. It would then be necessary to consider that a medium-term low point has been reached and that a more pronounced upward correction has begun. In this case the rebound would gain momentum towards 1.0360, the last market peak.
Below this last level, keep in mind that the medium-term trend remains bearish, with prices moving below the 200-period moving average.
Evolution of the euro against the dollar in daily data:
CONTINUE READING