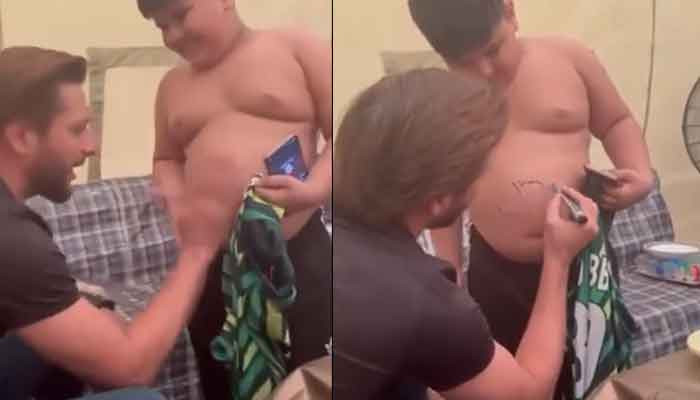 Sports
Shahid Afridi's autograph on baby's stomach, video of interesting conversation
A video of former national team captain Shahid Afridi giving an autograph on a child's stomach is going viral on social media.
In a viral video on social media, it can be seen that Shahid Afridi is present at an event and a lot of people are gathered around him. Meanwhile, a child approaches Shahid Afridi for an autograph.
In the video, it can be seen that the child is overweight and holding his shirt for autograph, but Shahid Afridi is also having an interesting conversation with the child.
In the viral video, it was seen that Shahid Afridi is hitting the child's stomach and saying that you want to play cricket or wrestle, there are many things hidden in this child's stomach, there are burgers and pizzas in his stomach.
The child asked Shahid Afridi to autograph his shirt, but Afridi said no, I will autograph your stomach. At the same time, a woman standing in the party heard the voice of a woman saying, "How long will you not take a bath, for 10 days, but Shahid Afridi?" It is said that when you lose weight, your signature will also shrink. Later, Shahid Afridi also signs the baby's shirt.