TOPICS DISCUSSED IN THIS MARKET BRIEFING:
L

European stock exchanges

pause

Wall Street doped by techs

Chart of the day –

Brent

:

a long-term bullish channel
European stock markets take a break
European stock exchanges evolve slightly down Wednesday, taking a break after two sessions of strong increase which allowed it to erase the losses recorded during a week heckled by the Omicron variant.
European stocks ended Tuesday with another strong rally on the back of better-than-expected statistics and encouraging information about the Omicron variant of the coronavirus, which is not causing severe symptoms according to South African and American experts.
In addition to information on the variant, investors also expect to learn more about the development of inflation in the United States. The monthly consumer price figures, which will be released on Friday, could fuel the Federal Reserve's monetary tightening debate ahead of its meeting next week.
The market will follow the Bank of Canada's monetary policy announcements at 4:00 PM.
Wall Street doped by techs
Wall Street ended sharply higher on Tuesday, as fears over the Omicron variant of the coronavirus subsided a bit and investors turned massively to big tech stocks and semiconductor manufacturers.
On the health front, investors were reassured by information on the Omicron variant of the coronavirus, considered to be more contagious than the Delta variant but not presenting any particular seriousness, as stated by the leading American expert in infectious diseases, Anthony Fauci. .
All major sectors of the S & P-500 ended up in the green, with the information technology sector registering an increase of 3.5%, its highest percentage of daily growth since March 9.
As a result, the Dow Jones gained 1.40% to 35,719.43 points. The Nasdaq advanced 3.03% and the S & P500 gained 2.07%.
Othersupdates on financial market news
Oil prices are down slightly after rising more than 7% since the start of the week.
Today's economic calendar:
Find the entire economic calendar to know all the economic events to comer.
CHART OF THE DAY – Brent: a long-term bullish channel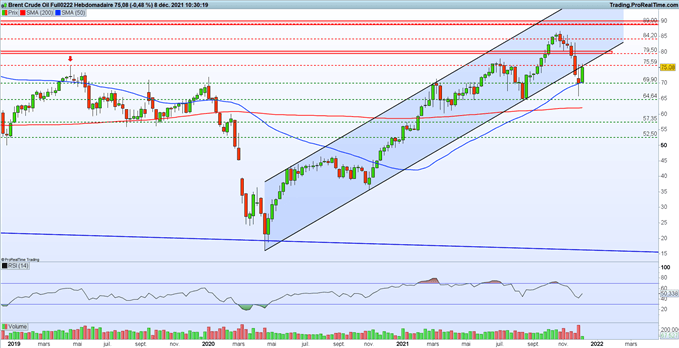 Graphically, oil was moving in a long term bullish channel. However, fears over the Omicron variant have plagued the oil industry. Thus, Brent pushed the bottom of its channel during its fall.
Currently, prices are coming back to test this channel coupled with horizontal resistance around $ 75.60. Technically, it could be a simple pull-back before heading back to the next support levels. If the buyers fail to win back the $ 75.60 then the sellers should take advantage of the situation to trigger a further corrective movement towards the 50 period moving average at $ 70. The 50 period MA is the guarantor of the bullish momentum, therefore a candle close below this threshold would pave the way for a deeper correction towards $ 65.
If you are a newbie or experienced trader, DailyFX has many resources available to help you:
CONTINUE YOUR READING