Fans asked national cricket team fast bowler Haris Rauf about meeting actress Maya Ali.
In an interview last month, Haris Rauf expressed his liking for Pakistani actress Maya Ali and said that he would like to go out to dinner with her.
He also said that I would not want to go to any other country for dinner, I will do it in Pakistan because Pakistan is the best country.
Fans were pleasantly surprised after Harris Rauf's viral clip, but recently the cricketer posted a question and answer session on his Instagram account in which fans asked him if he had dinner with actress Maya Ali. ?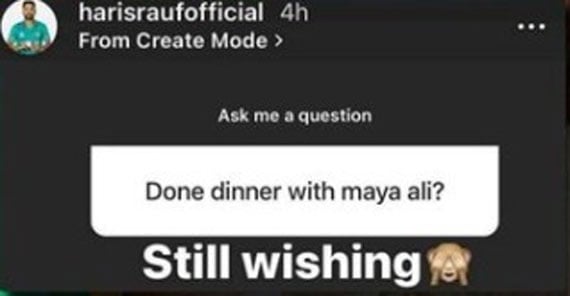 "I still want to have dinner with Maya," Harris Rauf replied.
The national cricketer's Instagram story was shared by several social media pages on which the fans also mentioned the actress but no reaction was expressed by Maya.