TOPICS COVERED IN THIS GOLD ANALYSIS
Inflation accelerates in November

Gold: a

e consolidation in a triangle
Inflation accelerates in November
Consumer prices in the United States rose in November at a rate not seen in nearly 40 years. The price increase amounted to 6.8% last month compared to November 2020, after + 6.2% in October. This is the biggest increase since 1982.
As last month, strong consumer demand has again come up against supply problems linked to the pandemic and it is the prices of the energy sector that have increased the most over one year (+ 33.3%) .
After arguing that inflation was "temporary" and linked to the economic recovery from the historic 2020 recession caused by the Covid-19 pandemic, the Biden administration and the US central bank have come to admit that inflation was more durable than expected.
The Fed will publish new economic forecasts next week, including that of inflation. It must also announce an acceleration in the reduction of its monetary assistance program to the economy in order to proceed later in the year to an interest rate hike in an effort to contain inflation.
During a congressional hearing last week, Jerome Powell admitted to having underestimated the tenacity of the inflationary surge. The financial institution currently expects inflationary pressures to hold for much of next year and then subside in the second half of 2022.
Gold: a consolidation in a triangle
The price of gold is rising a little after the publication of the inflation figures. In the medium term, the yellow metal still does not manage to regain height. Eventually, the market appears to consolidate inside a symmetrical triangle. It is therefore necessary to wait for one of the two terminals to break to take advantage of the next directional movement.
However, sellers continue to exert downward pressure tant that the prices evolve under the zone of 1,800 $-1790$. A foray below $ 1,750 could damage the barbaric relic and sellers could drive the point home in the direction of $ 1,684.
On the other hand, the market will start again in a bullish momentum if prices manage to regain the $ 1,850. Crossing this threshold would pave the way for a new wave of increases in order to rally to $ 1,910 and then $ 1,960.
GOLD CHART IN WEEKLY DATA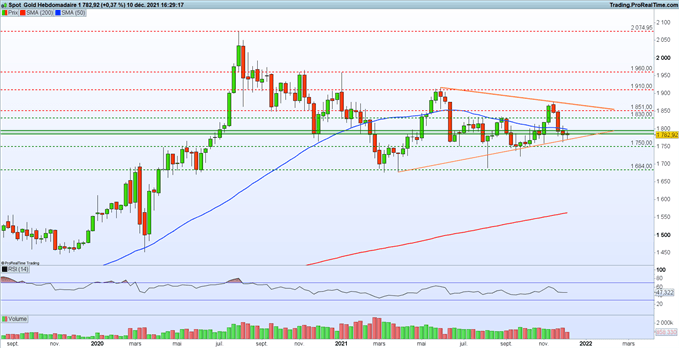 Twitter @Joris Zanna
CONTINUE YOUR READING
What is gold? Trading gold as a commodity
Trading the Gold / Silver Ratio: Strategies and Tips