At the bend of your web browsing, you discover with amazement your email address and your identity on an obscure forum. It is possible that your data has been sold several times before reaching this point. Having obviously never consented to such use of your data, nor received anything in compensation from this "small" business, Oasis Network offers you solutions against all these inconveniences.
The protocol claims to give users back control of their data. Thus, it is a whole network that grows around the principles of confidentiality and the preservation of privacy. 2021 has been a particularly productive year. Indeed, successive scandals have unfortunately demonstrated that it is urgent to clean up data processing.
This article is brought to you as part of an educational communication campaign, and supported by Oasis Labs.
Oasis technology: privacy-friendly tools
Over the past year, Oasis Labs has redoubled its efforts in implementing ready-to-use solutions and for developers. Several decisive Paratimes encourage them on a daily basis to imagine their future applications, in a framework that respects privacy and user-related data. As a reminder, the paratimes are private and autonomous bodies. They allow the implementation of smart-contracts in parallel with the main network.
Cipher ParaTime ensures the confidentiality of transactions in the field of DeFi through private smart-contracts. Thus, the balance of your wallet, the amounts and the recipients of your transactions remain safe from prying eyes. What's more, it offers prospects for solutions negotiated within the framework of under-collateralised loans.
Emerald ParaTime offre perfect compatibility with decentralized applications based on the Ethereum Virtual Machine (EVM). This in areas as diverse as DeFi or metaverse. By going through Oasis, the user will experience increased transaction speed and 99% lower fees compared to Ethereum.
The Parcel SDK provides a set of tools to manage sensitive data in a secure environment. It allows application developers to finely manage access rights. What's more, Ultimately, users retain control over the processing of their data.
Seduction operation to attract crypto-talents
Multiple rewards and incentive programs for projects and developers have been conducted over the past year. Oasis Labs thus participates in two project accelerators in partnership with MetaMind and DAppRadar. As for the Rose Bloom Grants program, its objective was to test and push back the operating limits of ParaTimes and Parcel.
Launched in November 2021, a $160 million fund is created to support ecosystem projects. The latter is dedicated to the next wave of Oasis applications developed across all sectors of the crypto ecosystem. It will also be used to finance existing projects that already handle all types of data. This concerns areas as diverse as tokenization, DAOs, and of course privacy.
Many historical investors of Oasis wanted to support the process:
AME Cloud Ventures
Dragonfly Capital Partners
Draper Dragon
Electric Capital
FBG
Hashed
Jump Capital
Kenetic Capital
NGC Ventures
Capital Panther
Additionally, in April 2021, the Oasis Foundation is partnering with Sperax to offer grants of up to $50,000 in support of Blockchain projects led by women.
Major business partnerships
That the Oasis Network project arouses the enthusiasm of investors is a good omen. This should not, however, overshadow commercial achievements team throughout the year. In 2021, Oasis Labs has indeed concluded more than twenty partnerships with prestigious companies such as BMW, Nebula Genomics or Binance, as part of the Cryptosafe Alliance. Oasis Labs also announced collaboration with Meta AI (formerly Facebook AI). In view, an application of IT technologies secured by AI.
These multiple partnerships, in addition to dubbing Oasis Labs' solutions, prove the now growing interest of companies vis-à-vis the data of their users. Research institutes and medical firms in the lead. Thus, Genetica, one of the most important genetic sequencing companies in Asia, now uses Parcel in order toimprove the security and confidentiality of its sensitive information.
DeFi arrives in force on Oasis Network
The long-awaited Oasis Web Wallet arrives in the third quarter of 2021. Its extension for the Chrome browser quickly completes it. Holders now have many "non-custodial" tools in order to manage their native ROSE tokens at their convenience. In particular, they can use it to directly access the various decentralized finance services. Indeed, Oasis' DeFi ecosystem also grew significantly throughout the year, leading to decisive partnerships.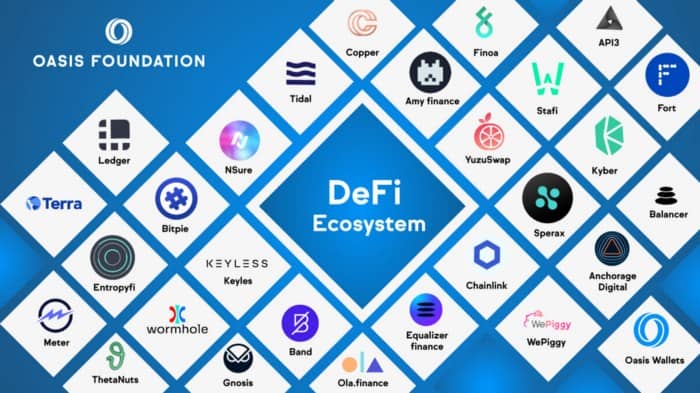 As an example, YuzuSwap is the first DEX built on the previously mentioned Emerald paratime. He offers interoperability with Ethereum allowing cross-chain swaps. What's more, it offers new features such as trade mining or automatic redemption in the event of a drop in the price of its native YUZU token. WormHole, a cross-chain interoperability protocol has also joined the Oasis network. It aims to facilitate the transfer of assets and liquidity from various networks. Other DeFi projects such as WePiggy, Band Protocol, Amy.finance have also joined Oasis Network to benefit from its scalability and privacy.
In 2021, NFT madness invades the Oasis Network and its community!
The themes of confidentiality and respect for personal data resonate with the general public. The major incidents that led to the massive dissemination of private data are at the origin of this collective awareness. Thus, Oasis Network federates at the beginning of the year 2022 an active community of over 160,000 members, including 30,000 in China.
There are more than 310 ambassadors who contribute to the development of the protocol by intervening in various frameworks (companies, universities, social networks, etc.). In order to thank this team of prescribers, the Oasis Labs team will show originality by taking advantage of its bubbling ecosystem. An NFT collection of digital roses, supported by MetaMirror, is thus minted on Emerald, the ParaTime EVM, rewarding a dedicated community.
Undoubtedly the beginnings of a new field of possibilities embodied by this very particular format which also tends to find its marks on the Oasis network. In May, singer Akon announced the release of genetically-inspired artwork, while using the Parcel development environment. NFTb is also one of these new platforms created on Oasis. It offers a marketplace for NFTs as well as staking and farming services. A mixture of genres that is on the rise in the context of DeFi.
After a thunderous 2021, the 2022 roadmap is already full. In particular with the launch of WebAssembly smart contracts on the Cipher paratime and its confidential DeFi applications. Oasis also announces the imminent possibility of tokenizing its data via Parcel. One more pretext for a long-awaited update for the coming year: the scaling of the network in order to consolidate and boost the performance of the two layers of the protocol. Oasis Network is certainly a project to follow closely in 2022, for ever more freedoms, opportunities, and personal data preserved.