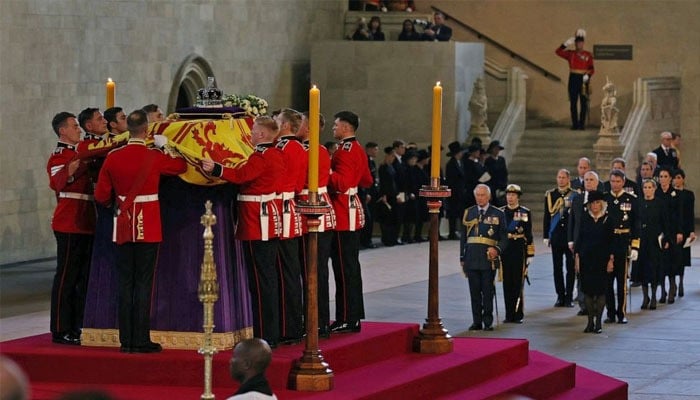 World
Britain's Queen Elizabeth II is buried at Windsor Castle
London: The late Queen Elizabeth II of Great Britain was laid to rest at Windsor Castle.
The seven-decade long reign ended with emotion and pomp as the Queen was laid to rest in the King George VI Memorial Chapel at Windsor Castle in the presence of members of the royal family.
The Queen's coffin was lowered into the Royal Vault under St George's Chapel, before being carried in a royal procession from the Palace of Westminster to Westminster Abbey.
After that, two thousand people participated in the prayer ceremony in the historic church Westminster Abbey, after the ceremony, King Charles placed the Queen's flag on the coffin, the Lord Chamberlain broke his official wand and placed it on the coffin.
Heads of State, dignitaries, senior UK politicians and former Prime Ministers from around the world attended to pay their respects to the late Queen.
Pakistan was represented by Prime Minister Shehbaz Sharif, at the end of the ceremony two minutes of silence was observed and the British national anthem was played.
It should be noted that more than 1 million people from across the UK attended the Queen's funeral.