Lucknow Supergiants' Afghan player Naveen Haq has shared a story on Instagram after his altercation with Royal Challengers Bangalore's Virat Kohli during the IPL match.
Naveen-ul-Haq has shared a meaningful story without naming anyone, which has become a topic of discussion on social media.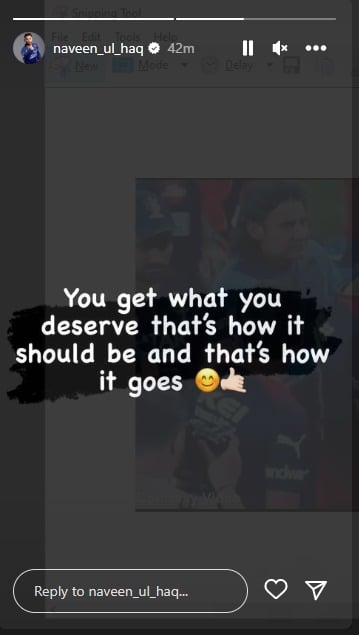 The Afghan cricketer wrote, "You get what you deserve and that's how it should be and that's how it is."
What happened?
It should be noted that a verbal war started between Lucknow's batsman Naveen Haq and Bangalore's fielder Ravirat Kohli, but the umpire and fellow batsmen intervened.
This war of words did not end here but as soon as Royal Challengers Bangalore defeated Lucknow, at the end of the match Naveen-ul-Haq and Virat Kohli had yet another bitter exchange while the players of both the teams shook hands.
The matter did not end here either, after Naveen-ul-Haq, the mentor of Lucknow Supergiants and former Indian cricketer Gautam Gambhir also got confused with Virat Kohli.
After the match, Lucknow Supergiants' batsman Kyle Meyers was talking to Kohli when Gambhir suddenly pulled him back and stopped him from talking to Kohli.
In such a situation, apparently Kohli's words were lost, Gautam Gambhir also got angry and started talking bitterly to Virat Kohli, but the players of both the teams managed to save each other.