Monday and questions – Are traders and analysts selling dreams by continuing to advance scenarios of the next bitcoin bullish rally? Do the technical indicators give credibility to these bullish assumptions?
The daily bitcoin price (BTC) is offered to you in collaboration with the Coin trading and its algorithmic trading solution finally accessible to individuals.
Serial fall of bitcoin: the supports hold on!
Bitcoin drops to $ 45,600 on Bitfinex today, December 20, 2021. The bulls, however, manage to win back the $ 47,000. Bitcoin is trading at $ 47,115 at the time of writing, and is currently registering a daily gain of 0.91%.
Trader Michaël van de Poppe highlighted in a chart shared in his tweet today, that despite the four series of falls observed during this month of December 2021, support at $ 45,852 continues to hold.
Trader Rekt Capital has also shown that bitcoin is "slowly approaching" another "bull market support". The latter is located at the 50-week exponential moving average – blue line in graph.
Major supports are currently preventing bitcoin from revisiting the $ 40,000- $ 42,000. Will they succeed in triggering a rebound that would allow bitcoin to initiate a true bullish rally, or should there be other falls below ?
July 2021 remake: short squeeze in sight?
Blockware analyst Will Clemente attached to his tweet today a Glassnode chart he shared on July 23, 2021. He then had planned a bitcoin squeeze short, and it was "the day before the summer lows came out". According to Will Clemente, "we are not there yet, but the configuration becomes more and more likely ».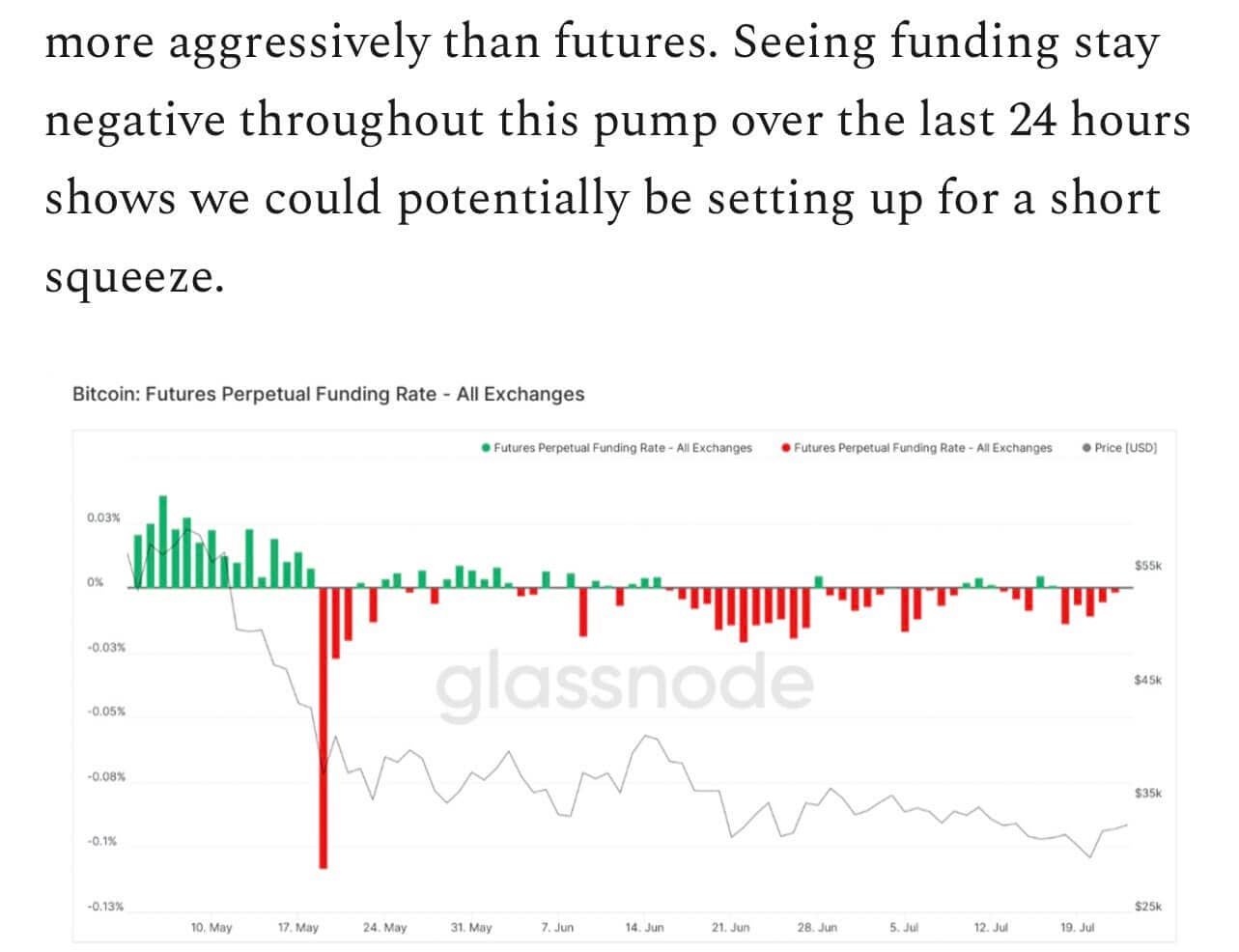 A short squeeze is a phenomenon which forces traders previously selling short to liquidate their positions following a rise in the price of an asset. This withdrawal of short sellers to reduce their losses, accelerates the rise in the price of the asset.
Is a bull run during the last two weeks really possible – beyond just baseless optimistic hopes – while bitcoin rather seems to be spending the end of the year under pressure? The next few days will reveal whether the aforementioned supports will give way or put bitcoin back on track for a bullish recovery.
Is it possible to be a winner every time? Whether the bitcoin price is in great shape, or going through turbulence, Coin Trading offers you to increase your chances of success. Indeed, Trading Du Coin allows individuals to access a trading tool algorithmic and 100% automated. A real trend mechanism, this tool was designed to adapt to market reversals and position itself on the most dynamic crypto assets of the moment.