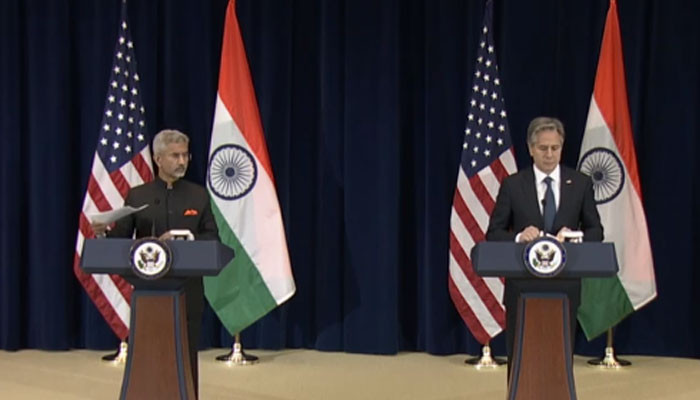 World
America completely rejected the Indian objections regarding the supply of arms to Pakistan
US Secretary of State Antony Blanken completely rejected Indian objections regarding arms supply to Pakistan.
While holding a joint press conference with Indian Foreign Minister Sabrina Jaishankar in Washington, the US Secretary of State made it clear that Pakistan is not being supplied with new aircraft, new systems or new weapons.
He said that the deal of 450 million dollars approved for Pakistan is for the maintenance of the already delivered aircraft so that the aircraft that Pakistan has can be maintained.
The US Secretary of State said that Pakistan's defense program strengthens its ability to deal with terrorist threats emanating from the country or the region. It is in no one's interest to allow these dangers to fester.
The Indian foreign minister had criticized the American position in an address to the Indian American community and said that you cannot fool anyone by talking about giving F-16 aircraft to combat terrorism.
Jaishankar had ridiculed Pakistan-US relations saying that neither Pakistan nor America benefited from these relations.
The US Secretary of State said that not only the clear threats of terrorism are arising from Pakistan itself but also from its neighboring countries. Be it TTP targeting Pakistan, Daesh Khorasan or Al Qaeda, these threats are clear and well known and it is in everyone's interest that we have the means to deal with them, this program is for this purpose.
Asked about the efforts to improve India-Pakistan relations, the US Secretary of State said that we urge our friends to resolve their differences through diplomacy and dialogue. .
It should be noted that the US Department of State had approved the sale of equipment and tools to Pakistan for the repair of F-16 aircraft.
Later, India protested to the US for selling F-16 aircraft parts to Pakistan.