Key points of the article:
A much better employment report than expected

The polarity zone starts again the decline
A much better employment report than expected
The numbers for the Canadian labor market have been very strong. More than 150,000 people found new jobs in November, five times more than the previous month and much better than the 35,000 expected. The unemployment rate also fell to 6%, from 6.7%, to its lowest level since February 2020. USD / CAD fell on weaker US and stronger Canadian reports.
As a reminder, Canada's GDP had already surprised operators upward with a GDP growth rate in the 3rd quarter up 5.4% against a consensus of 3%.
Moreover, the other variable which influences the evolution of the Canadian dollar is that of oil. The fall in prices in November particularly affected the Canadian dollar, but it seems to have hit a low point last week. WTI prices fell and then held onto the $ 65 level demonstrating the presence of buyers and appear to be stabilizing. The bullish trend of black gold could even resume with winter, which would give the Canadian dollar a boost.
Canada's central bank is meeting on Wednesday and could therefore issue a restrictive monetary policy decision given economic conditions.
At the same time in Europe, cases of Covid remain on the rise and restrictive measures are increasing in member countries. The ZEW indicator tomorrow in Germany will give an indication of the state of the economy of the first country in the zone but I do not see how a strong figure could appear.
The polarity zone starts again the decline
The euro Canadian dollar recorded a triple peaks in July, August and September then broke a significant support area between 1.4580 and 1.4600. The pull back made at the beginning of December is running out of steam on contact with the polarity zone and the bearish candlestick of the day seems to revive negative pressure.
Prices could therefore return to the recent low at 1.4164 and then reach the psychological level of 1.4000.
This negative scenario for the pair would be invalidated upon crossing the resistance zone.
Evolution of the euro against the Canadian dollar in daily data: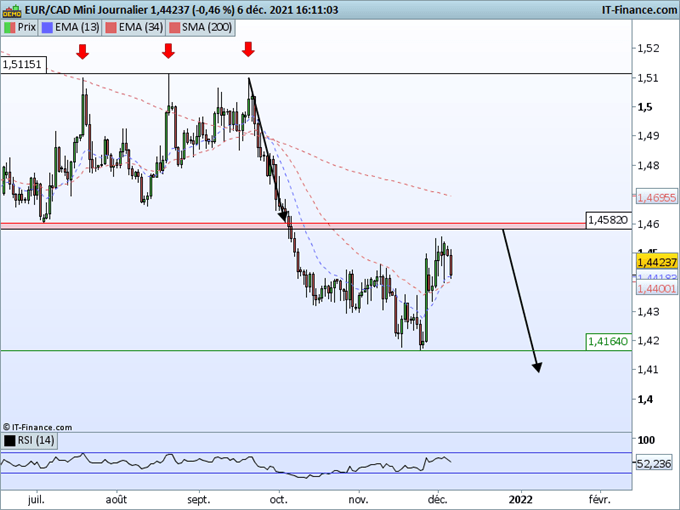 CONTINUE YOUR READING