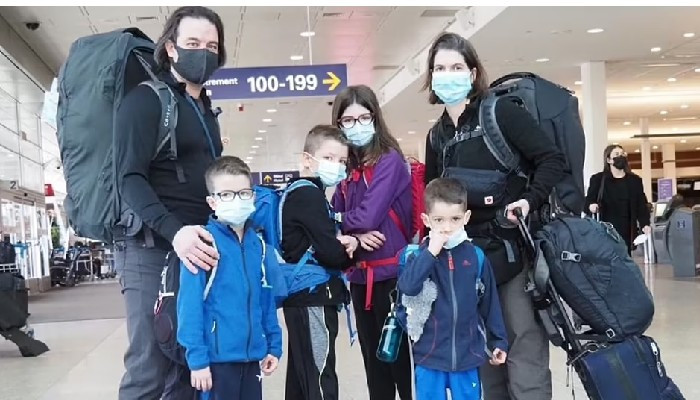 World
A family traveling the world before their children lose their sight
Edith Lemay and her husband Sébastien Pelletier from Canada learned that 3 of their 4 children had retinitis pigmentosa, a genetic disease that could eventually lead to blindness.

So the couple embarked on a world trip to create 'visual memories' for their children.
Edith and Sebastian's 12-year-old daughter Mia, 7-year-old son Colin and 5-year-old Laurent were diagnosed with the disease, while 9-year-old son Leo was declared safe.
There is currently no effective treatment available to cure the disease or slow down its progression.
The couple expects their children to be blind in the coming years.
In an interview with CNN, Edith Lemay said that the idea of ​​traveling the world came to her when the doctor who examined Mia suggested 'visual memories'.
"I thought that instead of a book, I would take them to see real elephants, I want to give my daughter a gift of memories with the best and most beautiful pictures," she said.
For this purpose the family started saving, their world tour was delayed for some time due to the Corona epidemic and the 6 people left in March 2022.
Now they are roaming the world without any plan.
The couple aims to experience things that are not possible at home.
Their journey began in the African country of Namibia where they saw elephants, zebras and giraffes, after which they went to Zambia and Tanzania.
From there they reached Turkey, then went through Mongolia to Indonesia.
Edith Lemay said 'our children need to be prepared for the struggle in their future lives, as Mia, Colin and Laurent's eyesight continues to deteriorate'.
He said that 'you learn a lot from travel, it's fun as well as hard work, because you get tired, irritated, so you can learn a lot from travel'.
The couple is also sharing their travels on social media and hopes that their experiences in different countries will help their children realize how lucky they are.
"No matter how hard life gets, I want to prove to them how lucky they are to live in a place with running water and to go to school every day," Edith said.
Although the couple knows that times ahead will be tough, they are focused on the positives right now and want to provide their children with an experience that will serve them well in the long run.
He said that a solid bond is being established between the children, from which it is expected that they will support each other throughout their lives.
The family had earlier planned to return home by March 2023 but now that seems unlikely as they are enjoying their trip.
The couple hopes that science will be able to find a solution to their children's illness.