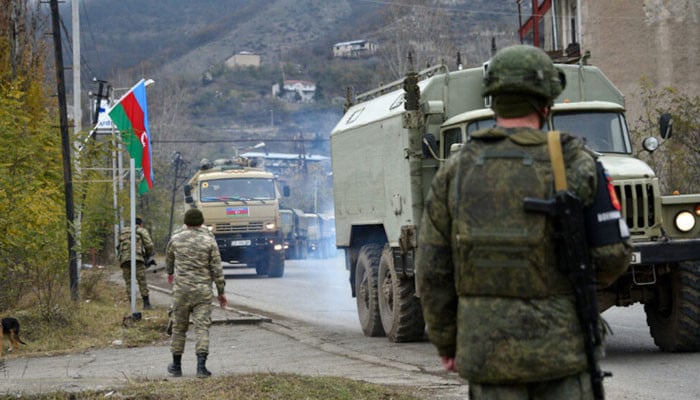 World
49 Armenian soldiers killed, Turkey's warning also came
A war broke out again in the Nagorno-Karabakh region between Armenia and Azerbaijan.
According to foreign media reports, the war between Armenia and Azerbaijan in the region of Nagorno-Karabakh is going on once again and there have been clashes between the forces of the two countries at 3 places on the border.
Azerbaijan accused Armenia of acts of aggression and sabotage and claimed that Armenia fired mortars and bullets at border military positions, triggering the clashes.
The Armenian Ministry of Defense has also claimed that military installations and civilian population were targeted by Azerbaijan on Monday night while the infrastructure was damaged in the attacks by artillery, mortars and drones by the Azeri army.
Armenian Prime Minister Nikol Pashyan told the parliament that at least 49 soldiers have been killed in clashes with Azerbaijan, but the casualty may be higher.
Azerbaijan did not specify the number of its soldiers killed in the clashes.
There was a ceasefire in the morning after the clashes between the two countries, which could only last for a few minutes. Azeri media alleged that Armenia violated the ceasefire minutes after the ceasefire.
On the other hand, Turkey urged Armenia to stop provocation and focus on peace talks and cooperation with Azerbaijan.
Apart from this, America also demanded Armenia and Azerbaijan to end the conflict.
It should be noted that even in 2020, the war between Azerbaijan and Armenia continued for 6 weeks over the 'Nagorno-Karabakh' conflict and in this war, Azerbaijan won and liberated many areas from Armenia.
It should be noted that Nagorno-Karabakh is a recognized territory of Azerbaijan at the international level, but it was occupied by the Armenian tribal group through the army, while due to this occupation, Pakistan is the only country that does not recognize Armenia.
This conflict has been going on since 1988, on which several wars have been fought and thousands of people have been killed so far.